HEINZMANN Group innovations at SMM 2018
Press Release (August 2018)
During times of rising fuel prices and further tightening of exhaust-emission legislation on fuel consumption, it is essential to have technologies are that enable the improvement of efficiency as well as the reduction of pollutant concentrations to the demanded limits. This is also increasingly true for the shipping industry. With various technical approaches, either as modular or as system solutions, the HEINZMANN Group enables their customers to meet emissions limits and to save fuel costs. At this year's SMM (September 4 – 7 in Hamburg), the HEINZMANN Group is present with two stands, each of which showcases a different range of products and systems of the broad marine systems and components portfolio to the shipping industry.
At Stand 504 in Hall B6, which covers the SMM focus on marine automation and technology, the HEINZMANN Group members Regulateurs Europa Ltd. and HEINZMANN Automation AS are presenting their combined expertise in integrated marine alarm monitoring and control systems.

SeaMACS Marine Automation System improves vessel monitoring
SeaMACS - Integrated Automations Systems (IAS) by HEINZMANN AUTOMATION is well-suited both for retrofit and for new ships. It is a well-established scalable system for the monitoring of vessel machinery and associated equipment. The system can easily be integrated and customised as it works together with equipment from most suppliers on the market.

The HEINZMANN Group delivers complete systems for alarm, monitoring, power management, propulsion control, etc.

Fuel savings & reduced emissions with FuelMACS
FuelMACS by HEINZMANN AUTOMATION is a fuel performance system which assists the ship-owner to fulfil the IMO requirements for developing a Ship Energy Efficiency Management Plan (SEEMP). The system can be used at the same time with the same data, not only on-board but also onshore by the shipping company. Several vessels can be monitored and compared at the same time with the same tool. This allows for ship owners to compare the fuel performance between different vessels, both based on instant values and previous values.The main purpose of the system is reduction of fuel consumption.

Trino Vibration Monitoring System for improved engine protection
Trino is a recent product from the RE stable. A condition based monitoring product for critical rotating equipment using continuous vibration monitoring to identify early signs of wear and potential failure. Trino is a means of protecting critical equipment from the high costs associated with unexpected failures during service. Typical use is on turbochargers, generators, large pumps and gearboxes.

A local display screen not only gives a clear signalling of pre and main alarm levels being breached, but also delivers an initial diagnosis of the cause of alarm upon which the local engineer can then decide upon a suitable course of action. Also offered is a remote monitoring option whereby alarms and daily data can be transmitted, either to RE specialist vibration analysts or your own source of qualified advice.

All in all, at SMM the HEINZMANN Group offers their comprehensive range of propulsion and engine control systems and automation systems for maritime application that aim for a significant reduction in fuel consumption. The environmental benefit is lower emissions. Customers benefit from this by saving fuel costs and at the same time complying with stricter emission standards.
At Stand 108 in Hall A3, the HEINZMANN Group covers the SMM focus on prime movers and propulsion systems offering:

CR-Retrofit Solutions for lower emissions and fuel cost savings
The replacement of an existing conventional diesel fuel injection system by the proven Common Rail retrofit kit ODYSSEUS provides not only a remarkable reduction in fuel consumption but also lower emissions. For larger marine engines short payback times can be achieved.
HEINZMANN supplies turnkey solutions including the CR conversion system, installation, commissioning and full lifetime service.

LAVINIA: Cost-efficient EFI extension for PPN fuel injection systems
For medium-sized marine engines up to 350 kW/cyl. HEINZMANN offers an extension kit for conventional diesel fuel injection systems which provides precise injection timing over the entire engine operating range.

LAVINIA E-PPN stands for electronically controlled extension for mechanical Pump-Pipe-Nozzle fuel injection systems. It is based on a high-pressure fuel valve that enables parameterisation of the beginning of injection, the injection quantity and cylinder balancing, depending on engine speed and load. Using this cost-effective add-on system, a clear reduction in fuel consumption and emissions can be achieved.

Dual-Fuel conversion solutions for marine propulsion engines
The conversion of a Diesel operated combustion engine to natural gas attains a remarkable reduction in exhaust emissions as well as in operating costs. For large medium and low speed engines the gas supply to the engine is realized by cylinder individual port injection for a precise cylinder balancing, good transient behavior of the engine and low CH4 blow by losses. Gas dosing on engines with gas mixers usually tends to be slow and allows only limited influence on control.

HEINZMANN has the optimum solution with the ARTEMIS Dual-Fuel System offering a complete, tailor-made dual-fuel solution based on proven and certified components for large low and medium-speed engines with an output power range between 1000 kW and 10 MW.

The dual-fuel system is operated by the latest version of HEINZMANN's MVC 01-24 EFI-controller, actuating the specially developed, double-walled MEGASOL 200 II gas admission valves. This offers very flexible system configuration in order to achieve the best possible adaptation for any application. Together with an intelligent air path management controlled by HEINZMANN's wastegate valve WG 70, it was possible in a field application based on a CAT 3618 marine engine to operate the engine with a conversion ratio up to 90% gas.

What makes MEGASOL 200 II Marine stand out?
Very low leakage when closed
Fast response time
Cylinder individual precise gas dosing
Wide supply pressure range
Long lifetime
Double-walled housing for gas leakage detection
Easy installation particularly suitable for retrofit
Approved for marine applications

Improved electro-hydraulic governing for vessels
HEINZMANN Group member Regulateurs Europa BV present their latest developments in digital and hydraulic governors and hydraulic actuators, one of which is the microprocessor controlled hydraulic governor DG 2800.14. It can be used on diesel, gas or dual-fuel engines and steam turbines. DG 2800.14 consists of the well-proven RE 2800 series actuator and the Heinzmann digital DC 14 governor.

The DG2800.14 takes the electro-hydraulic governor to a higher standard. With standard functionality as droop load sharing, droop load sharing based on kWatts and Isochronous load sharing up to 4 engines. For propulsion applications the DG2800.14 has additional functionality like master/slave load sharing in isochronous mode (2 engines driving a gearbox) and a load reduction function. Communication between the DG2800.14 governors is by CANbus. Other functionality can be added on request.


ODYSSEUS CR-Retrofit Solutions: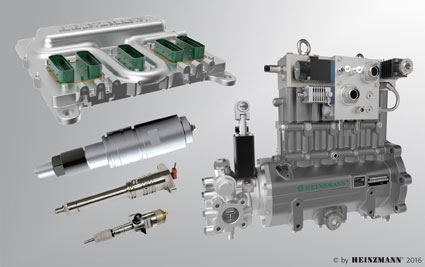 Electronically controlled extension for mechanical
Pump-Pipe-Nozzle Fuel Injection System (E-PPN)
of HEINZMANN:

MEGASOL 200 II Marine of HEINZMANN:

Hydraulic governor DG 2800.14 of RE BV:

SeaMACS Marine Automation System of
HEINZMANN Automation AS:

FuelMACS Fuel Performance System of HEINZMANN
Automation AS:

Trino Vibration Monitoring System of RE Ltd.: